About Youen Jacob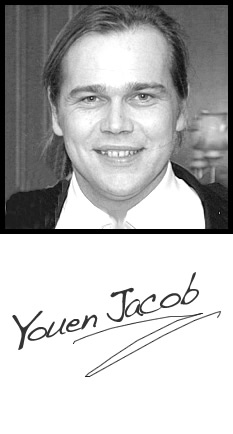 Youen Jacob has been taking photographs since he was just 10 years of age. As a young sailor he took a keen interest in boats and their form, lines and shape. He began taking photographs of all types boats and their settings as a reference. As an adult he then went on to study Marine Architecture and his deep interest in photography became an invaluable asset to his studies.
Youen then went on to run and manage his family business as chief, restaurateur and hotelier in the beautiful picturesque village of Baltimore West Cork. Youen still manages and runs The Waterfront Hotel, Jacobs Bar, The lookout Restaurant & Le Jolie Brise Pizzeria along wit his wife Kate. But while doing so... his passion and hobbie for photography still remained as his first choice for relaxation and pleasure (Sailing & Fishing now take second and third place respectively).
Over the past three years Youen has indulged himself in the best of photography equipment and technology, allowing him to take his talent 'for that perfect shot' to a new level. He occasionally takes some time out from running the demanding family business to photograph the views and scene that interest him most. Over the years some of his work has been displayed in and around the Hotel, Bar and Restaurant. Customers and visitors began to ask for copies of his photographs in increasing numbers during these years. He then decided to open a photography gallery in the village of Baltimore to showcase some other photographers from West Cork that he had become friends with through his passion for the art of photography. The gallery is called Chez Fhoto and is situated in the heart of Baltimore village. Youen now also exhibited some of his own work in the gallery along with Brigid Tiernan, Aedan Coffey, Rohan Reilly & Pierce Higgins.
In an effort to address the demand for his photography work, Youen has decided to setup this website. Here you can order and purchase photographs from some of the events and scenes that Youen has photographed over the past number of years.